On Oct. 3, the university's Wind Ensemble had its first concert of the year. The concert program covered a vast span of repertoire, ranging from classics such as J.S. Bach's "Mein Jesu! was für Seelenweh," meaning "My Jesus! O What Anguish" in English, to contemporary pieces such as "Angels in the Architecture," a commissioned piece by composer Frank Ticheli.
"Angels in the Architecture" was accompanied by a lone vocalist, Kayla Rush, who began singing on the second row, creating a sort of ethereal, transcendental, at times haunting, effect on the listener and on the music itself. The composer of the piece, Frank Ticheli, expressed his amazement of the performance of his work, and complimented the ensemble during the livestream of the concert. This divine-sounding, emotional piece is countered by composer Darius Milhaud's Suite Francaise, a lighter collection of French folk songs from various provinces. The piece includes five movements, with each movement bearing the name of a different province, containing various folk songs from the respective area.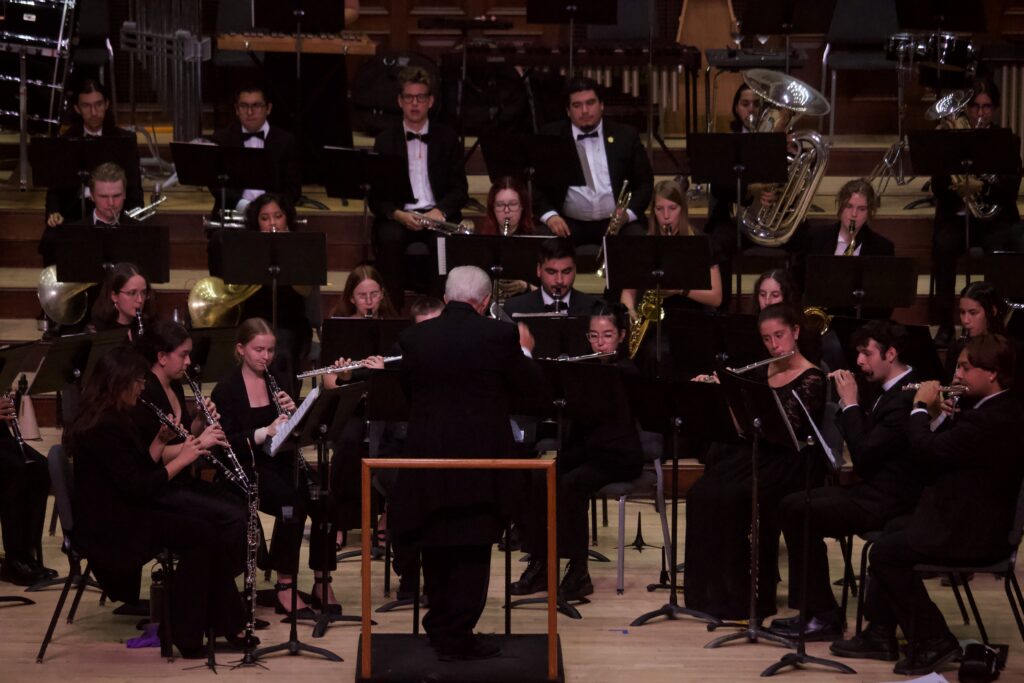 A counter to the overall contemporary feeling throughout the performance was a welcome surprise, "Folk Dances," by Dmitri Shostakovich. Shostakovich was an early modern Russian composer who wrote music inspired by Romantic period Russian composers like Nicolai Rimsky-Korsakov, and Pyotr Ilych Tchaikovsky. He was a staunch opponent of Stalin after World War II, and "Folk Dances" is an amazing example of music being used to advocate against a cause the artist did not believe in.
One of the most interesting pieces performed by the ensemble was Fergal Carroll's "Winter Dances." It is a contemporary piece that was written to include dancers, and the music underscores the dancers' movements throughout. The dancers are the main focus of this piece, as the music is quite rhythmic and the short melodic motifs quickly are pushed down and away by the resurging rhythmic section.
When asked about how he thought the performance went, the conductor Eddie R. Smith said, "I thought it went well, we only had three weeks to put this together. This is the top-performing ensemble here, and they need to be able to put things together very quickly and very well. This was a challenge."
Smith also commented on where he thinks there could be areas for improvement, "There was some nervousness in the middle that shouldn't have been there."
The program played had an overarching theme, everything had elements of pain and suffering, but with ribbons of hope and all together, the five pieces performed lead the audience through a gauntlet of emotions as the program moves steadily on.
Photos by Lane Eppenberger.