It was love at first sight for Dr. Joe Modica and George the bulldog. George was only 8 weeks old and weighed 3 pounds when he was first brought home in spring 2022. Dr. Modica is George's owner and the director of the University of Redlands School of Performing Arts Conservatory of Music.
George is now the school mascot and an integral part of the campus, often seen in admissions, in the library or at outdoor events surrounded by students eager to pet him. His handlers characterize him as lazy but sweet, and never turns down a treat. They hope to have him attend more outdoor sports events this year.
Adopting George
After Addie, the previous bulldog mascot, retired at the end of the 2021-2022 academic year, the hunt was on for a new handler and new bulldog. Modica received an email asking if any faculty member wanted to be the next handler of the university mascot. He immediately thought this could be a good opportunity for him and his family, so he talked to his wife, and they decided to apply.
"This would be a really cool thing to do for our community and for our kids and for our family," Modica said. "How many times do you get a chance to be a handler for a mascot? That doesn't come around every day."
Modica was excited to be selected to host the new mascot. He and his family also already had pets at home, including two Great Danes named Franklin and Grizzly, as well as cats, lizards, and chickens. They were allowed to research and choose whatever dog to be the mascot they felt "fit best with [their] family." Since their current dogs and cats were male, it made most sense to get another male dog. The Modica family talked to other owners of mascots and considered breeders and shelters. They ended up choosing a breeder in Monterey, and soon after, George was born.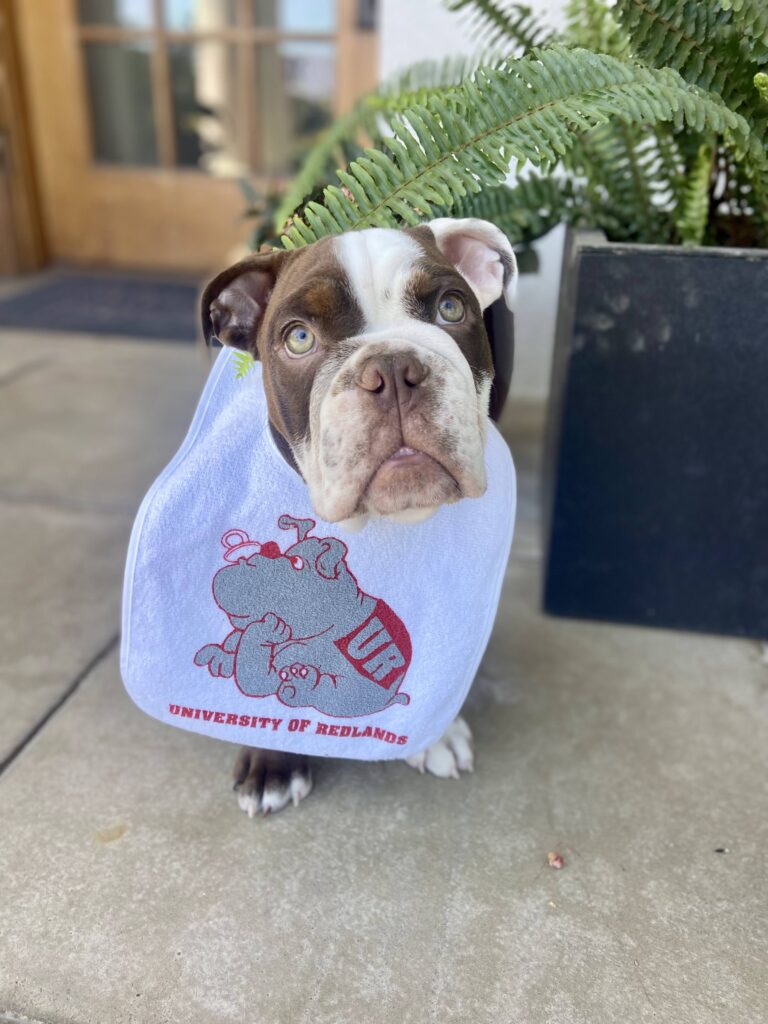 "They texted us when George's litter was born, and we got to sort of look at them on FaceTime and we saw George and it was just immediate love. I was the first one that he came to, and he just started licking my face like crazy, so we've been best buddies ever since," explained Modica.
Even after George retires from being the university's mascot, Modica and his family get to keep him forever. Modica says George will remain mascot as long as he is healthy.
George's Daily Routine
Over the summer, George spends his time playing in the water and sleeping. Despite not being able to swim, he loves going on floaties and hangs out on the steps of the family pool. He also enjoys jumping around in a kiddie pool and playing with his Great Dane brothers.
"He sleeps most of the time so he's a lazy guy. And actually, bulldogs don't typically like heat, but he loves to lay in the sun in the summertime," Modica said.
During the academic year, Modica goes to the gym every morning, and when he gets home, George is waiting for him. Modica feeds George and his brothers breakfast, and then pours himself coffee.
Modica explained, "I get ready for work, and he lays there right by me, he won't leave my side. He knows it's a work day. And as soon as I'm done and I pour my coffee, he goes to the door. That's his cue, dad's pouring coffee, it's almost time to go. And then he waits by the door, and I ask him, 'George, do you want to go to work?' And he gets very excited. He goes right out to the truck and gets in."
Once he gets to school, George loves to play keep-away, sleep, and chew on any kind of balls, says handler Lexi Riffel '26. Handlers are University of Redlands students who have the job of taking George out to greet other students and to events on campus. Riffel has always loved dogs and grew up with four dogs at home.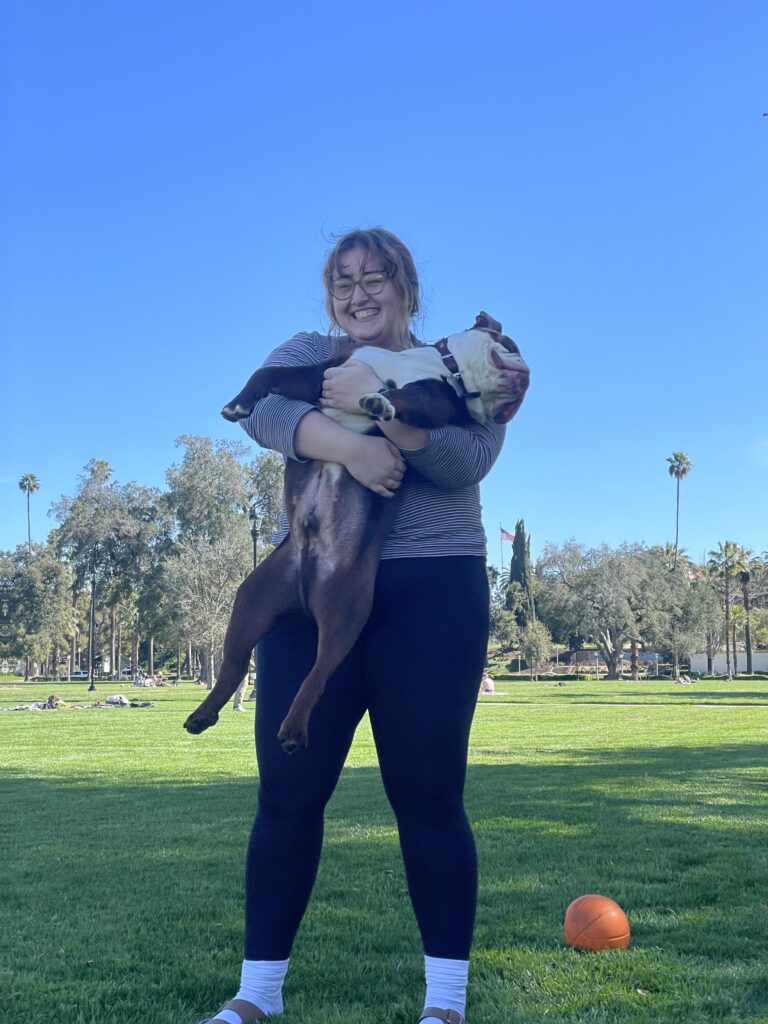 Gemma Lang '24 is another one of George's handlers. She was Addie's assistant handler, and when Addie retired, she moved to helping with George. Lang has been helping take care of George since Modica first brought him home in May 2022.
"I met Georgie when he was about 7 weeks old and I babysat him over the summer when he was just a little infant, and then I just started working with him during that fall semester," says Lang. She takes him to work with her in Admissions, where he gets to hang out and greet families taking tours.
One of Lang's favorite memories with George is when she first met him as a puppy. They were trying to get a photo of him and Addie on the steps of the Admin building. Lang recalled holding him for the first time and said, "he was just the littlest little thing ever, he could barely keep his eyes open."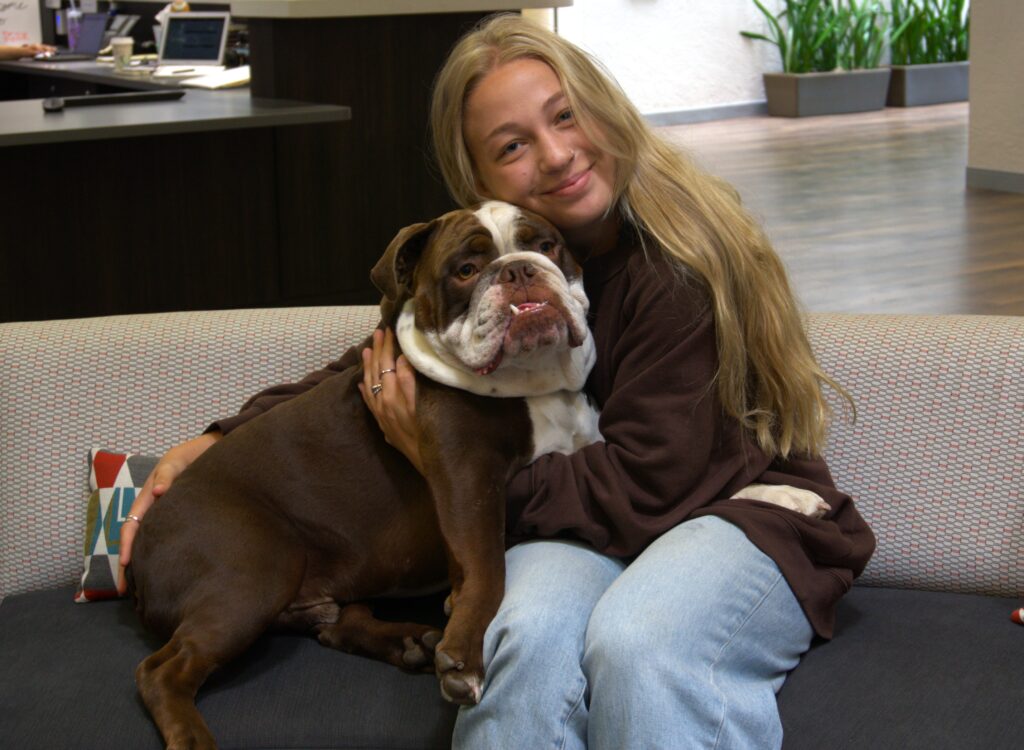 Riffel and Lang adore George, and said that he's part of their family and that they love him like one of their own dogs. They agreed that meeting people through George is one of the best parts of the job.
"I've met some of my really close friends through my job, which is kind of unexpected, but really cool," says Riffel.
George can most often be found in Hunsaker, Armacost Library, Admissions, and Dr. Modica's office in Watchorn Hall, according to his handlers.
"He's usually in Watchorn in Dr. Modica's office. I also like to walk around Hunsaker with him on Monday afternoons, and when it's nicer weather, I'll go to the quad with him. I just try to be where a lot of students are during the week," Riffel explains.
Goals With George
Now that George is over a year old, his humans have big dreams for his future. They agree that George will try and come to more football games and athletic events this year. George can only attend outdoor events because indoor events are too loud and overwhelming for him, said Riffel. Modica thinks being more present on campus would be good for George as well as Redlands students.
Lang also loves involving George in things she's passionate about on campus, like Outdoor Programs. "He was able to come to Outdoor Programs for FYJ and just show his mascot support because I'm involved in outdoor programs, so it's fun getting to take him to little places that I like," Lang said. She is also excited that George will be at her graduation this year. 
George's Personality
George's caretakers said that there are different aspects of his personality that stick out to them, but they can all agree on one thing: he's lazy but loving.
Riffel and Lang agreed that getting George to walk when he doesn't want to is one of the biggest challenges of their job. When George is feeling tired or lazy, he will just lay there until he gets a treat or someone drags him up. "It looks like he's melting into the floor," Riffel said. George is very strong willed and stubborn, and he won't do anything he's opposed to.
"He loves to eat; he's very food obsessed," explains Lang. "He loves literally anything…he will literally go to everyone that's eating food in Admissions and he'll put his head on their lap and stare at them until he gets food." Treats are also a good way to motivate him to walk when he is feeling lazy.
He loves any toys he can chew on, with some particular favorites being plastic chewy balls and his tug of war rope. "If it's chewable, he loves it. He's not picky," said Modica.
George is playful, loving, sassy, and aloof when you first meet him, but warms up after a while, explained Riffel. George also likes butt scratches and has very stinky farts, and slobbers a lot. Nothing fazes him, and he's very chill and go-with-the-flow. He's such an easy dog and loves meeting other dogs and kids, said Modica. 
"He's so sweet once you get to spend more time with him," says Riffel. George is especially attached to his handlers and loves being around them.
"Don't be afraid to come up to George and pet him," said Riffel. They want students to know they shouldn't be afraid to approach George. He can be sassy and may not approach students, but he still wants pets! 
Adelaide Hubble is a freshman majoring in environmental studies and minoring in spatial studies. She enjoys writing about club events and any important issues on campus. Adelaide is from Las Vegas and likes to listen to 80s/90s alternative rock and explore coffee shops in her free time.