The University of Redlands provides an essential resource for off-campus exploration to accommodate the various needs of its student body. Through the university's Shuttle Service, funded by student fees, students have access to explore the Redlands downtown area, the community theater, and well-known commercial shopping areas.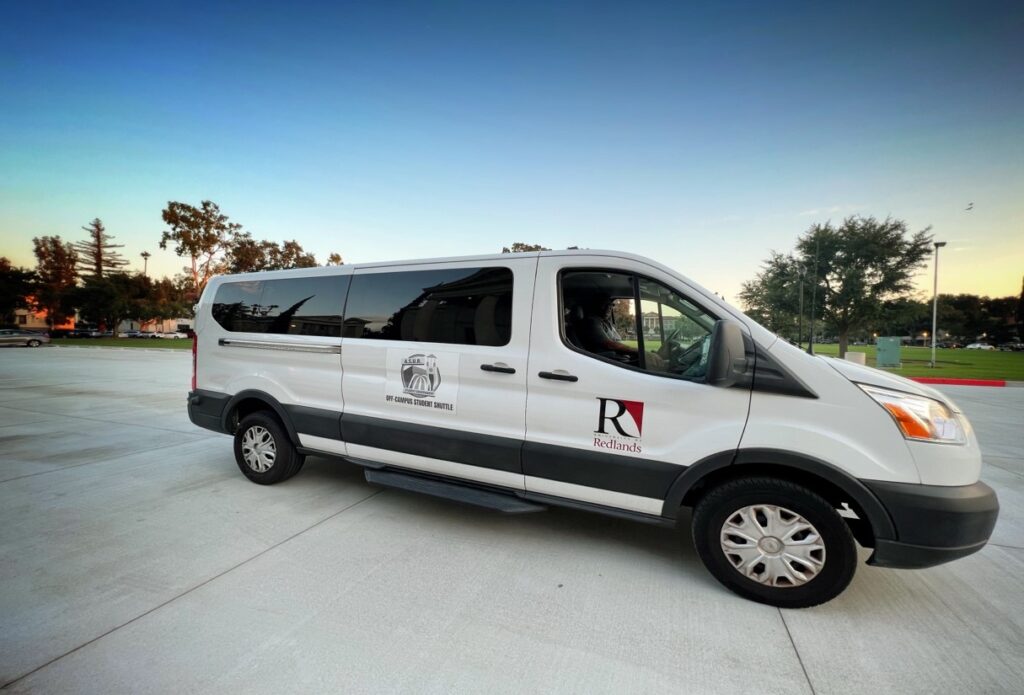 Shuttle Service Routes
The shuttle service runs in the evening from 5:00 p.m. to 10:00 p.m., available Thursday through Sunday, providing students with a convenient and secure way to move around the city. The route includes several major stops at Redlands:
U of R Chapel: Serving as the designated pick-up and drop-off point, the Memorial Chapel is where the journey begins.
Mountain Grove: This bustling hub offers access to Ross Dress for Less and Harkins Theater, making it a prime destination for students seeking entertainment and retail therapy.
Orange Grove: The shuttle heads to Target, a one-stop-shop for students' everyday needs, from groceries to school supplies.
Brookside Plaza: Home to Stater Brothers, this stop ensures that students can grab groceries and essentials conveniently.
A.K. Smiley Library: A haven for bookworms and scholars alike, the library is a vital resource for students.
State Street: As the heart of Redlands' downtown district, State Street is a vibrant and historic area that boasts a variety of dining and shopping options.
Panera Café: Perfect for a quick bite or study session over coffee and pastries.
Trader Joe's: A favorite among students for its unique food selection and affordable prices
The shuttle's last stop is back at the University by 10:00 p.m. Students need to plan rides accordingly.
Monitoring the Route
Students can easily track the shuttle's location in real-time using GPS technology by clicking here. This function ensures that students will efficiently arrange their outings and avoid unnecessary delays.
Behind the Wheel: Meet Gary Carpenter, the Shuttle Driver
Meet the man behind the wheel – Gary Carpenter. Carpenter is not just a shuttle driver; he helps students navigate campus and major Redlands areas. He is delighted to welcome each and every student on board.
According to Carpenter, there are typically around four students using the shuttle service each day. Although some days are busier than others, especially the weekend. When asked about holiday schedules, Carpenter clarified that the shuttle service does not operate during Thanksgiving break, giving students a chance to coordinate alternative transportation options.
As for his journey as a shuttle driver, Carpenter proudly shared, "I enjoy meeting new students and encouraging them to excel in their studies. It is inspiring to ask them about their future goals and what they plan to achieve after graduation. I believe in the big picture."
However, he acknowledged that the job is not without its challenges. Carpenter commented, "Not everyone drives safely in California. So, I always try to avoid accidents and ensure the safety of our passengers."
Reflecting on changes since the onset of the COVID-19 pandemic, Carpenter noted a significant shift. Before the pandemic, the shuttle service had a team of six drivers, three stationed on campus and three off-campus. However, since fewer students took the shuttle after Covid, they had to restrict service. There is now just one driver overseeing the whole operation.
Carpenter clarified that there are restrictions in place for using the service. To get a ride on the shuttle, students must be enrolled at the University of Redlands, ensuring that the service remains accessible to the campus community.
Students at the University of Redlands continue to benefit from the shuttle service, which gives them a safe and cost-free way to explore the city. Gary Carpenter, Public Safety and Student Affairs are still committed to ensuring that every Redlands student has a fun and safe experience with off-campus outings.
Photos by Anika Tabassum.
Anika Tabassum is from Bangladesh. She is a second-year student pursuing a double major in Computer Science and Business Administration. Her passions include seeking adventure, exploring new places as well as enjoying sports like Badminton and Tennis while maintaining an active lifestyle at the gym.