The University of Redlands Art Gallery opened again for the school year; its doors welcoming students and visitors to explore numerous works composed by the university's own art faculty. Ranging from ceramics, to photograph collages, to portraits and prints, each artist and their pieces represent a different idea that reopens the concept of humanity in the world. The gallery opened Aug. 29 and welcomed visitors up until Sept. 24. This exhibition presented the chance for students to intake captivating art and connect with professors.
Professor Raul Acero and his multiple pieces of ceramic work dive into an important yet forgotten history of Latin America. Hijos de Algo, which translates to "sons of status," features miniature ceramic pieces representing the story of colonialism in South America and the Caribbean. The center piece, a clay figurine surrounded in a blue boat, represents the oceans crossed by the sons in order to reach new lands. Circling figures colored in a dark, oil-like brown represented those who were colonized, their expressions anguished and in sorrow. The beautiful ceramics are up for sale for anyone interested.
Professor Tommi Cahill evokes a sense of humanity through her photo collages. Footprints, eight parts of photos taken by Cahill, are, in the words of the artist, receipts left behind by people. Many of her findings featured in the photos themselves are artifacts, some from estate sales and other items found lying around streets. Cahill expresses how, as a photographer, "you have to pay attention to the world" since life moves very fast. Her works capture and express the reality of life; for example, the items people cherished.
"A photo capturing the image of life and what some people cherish is the same as what some don't. That's what I'm really getting from it," Cahill said.
Cahill's photos are meant to be open for interpretation, connecting back to the idea that trash to someone may be treasure to another person.
Professor Penny McElroy composed digital pieces and printed them onto glass to achieve the work that is Belladonna. The glass features art of different styles, all under the same concept of gifting flowers.
"I was thinking about the Victorian language of flowers," said McElroy, "I wanted to use this idea as a touchstone and create digital composite images that evoke liminal spaces and forgotten dreams." McElroy produced various pieces, but selected a handful to display.
Inspired by the song "Los caminos de la vida," professor Anna Gaitan created paper works by utilizing stencils and materials which she is most acquainted with. The prints are meant to represent the different stages of life that everyone goes through.
"Some of them are positive events and some are negative," Gaitan said, adding that the piece overall "is meant to be continuous."
The pieces themselves are named after the song, whose title translates to the paths of life. As for the techniques utilized, Gaitan set two challenges for herself whilst creating the pieces.
"I could not over-plan my designs, and I had to begin work from a neutral color palette." Her paper works use intricate color schemes to express the emotional and universal aspect of said pivotal moments.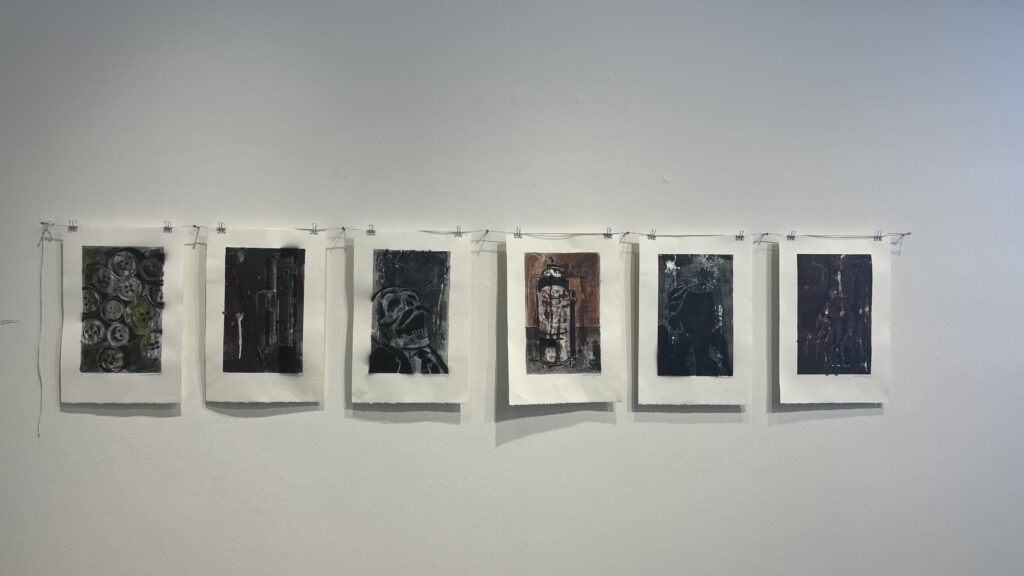 Professor Munro Galloway featured multiple paintings titled Paris Eyes. There are seven paintings in total, each with a different color palette, all created through the use of gouache, watercolor, ink, and colored pencil. No two paintings are the same, each with their own value.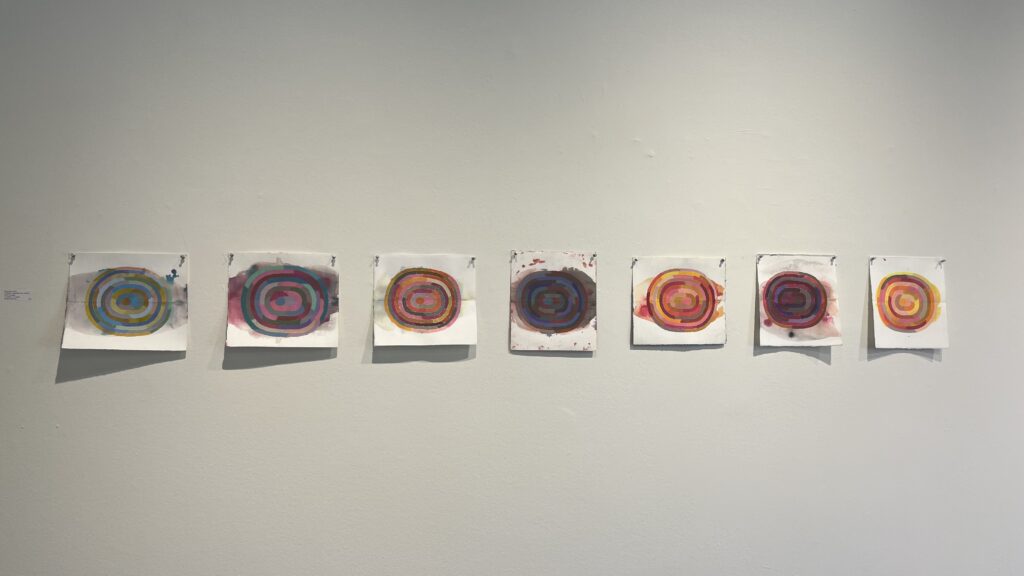 The largest piece in the exhibit was a self-portrait printed by professor Jeff Wilson. Wilson, who teaches digital imaging and photography, worked around the medium that is "like second nature" to him, creating his portrait Grande Aubergine.
"The self-portrait," said Wilson, "is a tongue-in-cheek nod to the odalisque paintings that were popular and scandalous during the 18th and 19th centuries."
As for the piece's significance to Wilson, it is a representation of his confidence and self-actualization invoked by age.
"I'm becoming more comfortable with myself and suffering from imposter syndrome less as I age," Wilson said. "Hopefully, at some point in everybody's life, they learn how to exist without paying attention to what others think."
The beauty of being alive and living contently has been dismissed collectively by society. But as mentioned by Wilson, it has lots of importance in our own lives.
Each professors' passion for their line of work is evident in their art. The exhibit was supported by the Hunsaker family to honor the late Carol Appleton, who, as an artist herself, made sure the arts were given the recognition deserved. Denise Benz, the art department coordinator, also supported the artists and their works, making sure to entrancingly display the beauty of the arts and the university's art faculty.
Photos by Eleanor Bachmeier.
Zina Balmaceda is a first-year student majoring in global business. She loves all arts, both as an artist and as a viewer. Aside from academics, she enjoys going out and exploring new places, and trying new things.