Hayleigh Yeoh is a sophomore at the University of Redlands majoring in Music Performance.
The University of Redlands has a long history with music. Some of the earliest classes hosted at the university were about this ancient art, forming a foundation for the current Conservatory of Music in the School of Performing Arts. Performances of the Feast of Lights are held every year in the long-standing Memorial Chapel. Esteemed composers, such as Aaron Copland and John Rutter, have even visited the university in years past.
Because of this, it was of little surprise to me to discover that many of the dorm buildings on campus have pianos. After all, music is ingrained into many of the students' lives in some way, from Spotify playlists to hearing the bells of the Chapel chime every hour. But curiosity struck and I wondered: what kinds of pianos are hosted in our dorms? What are they like?
As a piano performance major, the mysteries of the dorm pianos intrigued me greatly. So, I grabbed a fellow pianist friend, and we ventured through the campus, on a quest to find out which piano was the best. Here is what we discovered on our little adventure.
Dorms not listed either did not have pianos or were not able to be accessed at time of writing.
Melrose Piano
A piano that seems to have instilled great pride in its players, the Melrose Piano is an upright Yamaha (yes, the motorcycle company is also known for its well-regarded pianos) with a shiny lid and a slightly worn bench. It's situated in the corner of the lounge next to a window, and due to the quieter nature of the dorm I could almost imagine I was inside one of the Fine Art building's practice rooms in the early hours of the morning.
I'd say this piano matched its dorm very well in terms of the vibe – in the quietness of Melrose's halls, the piano's darker tone fit the setting quite nicely.
Cortner Piano
Cortner's piano has a certain charm about it. This piano is a wooden grand with a lovely view out the nearby windows towards the Irvine Commons. It did have a chip in one key that oddly enough resembled a bite mark. Otherwise, it held up well against my well-practiced rendition of my favorite anime theme song, which up until now I had been using as a measure to test how loud and soft each piano could go. I also found that the upper register, which has a sound that tends to ring out above the rest of the notes, projected quite a bit more than I expected, especially after I put the lid all the way up. A piano with its lid up generally means a fuller sound, and the Cortner piano definitely lived up to that line of thought.
Anderson Piano
The Anderson piano was very nice in sound, although I had to question why one of the keys, in a fashion similar to Cortner's piano, also seemed to have a bite mark in it. A friend of mine who happens to be staying in this dorm building claimed this was due to him getting hungry while practicing. I chalked it up to it being in a central location of the building with high amounts of student traffic.
Otherwise, this particular piano was a personal favorite, being both enjoyable to play on and in a great place for people to get together.
Holt Piano
Holt's piano is settled into the corner of the very decorative lounge, with an equally inventive chair alongside. Similarly to the Cortner piano, the Holt piano is another wooden grand in an acceptable condition, although rather bright in tone. The lower register's notes also overlap and make it extremely hard to pick out individual notes when playing multiple of them one after another. But otherwise, not a bad piano at all, and I liked how the space around the piano allows for students to gather around the instrument when the mood strikes.
Grossmont Piano
This particular piano gave both me and my friend quite a difficult time. For starters, certain keys leave something to be desired, with the top covers missing on some and others being outright impossible to play. It also seems to be the most damaged of the pianos I'd seen up until that point, with multiple scratches covering the exterior.
Interestingly, it's also the only piano I've encountered here that's been built by Hardman-Peck. This particular brand was once the chosen piano brand of the Metropolitan Opera, and was known to have very high quality. I personally hadn't seen any Hardman-Peck pianos before now, so it was very interesting to see something a little different.
Unfortunately, though the brand itself has an illustrious history, this particular piano's not getting my pick for best piano. Next!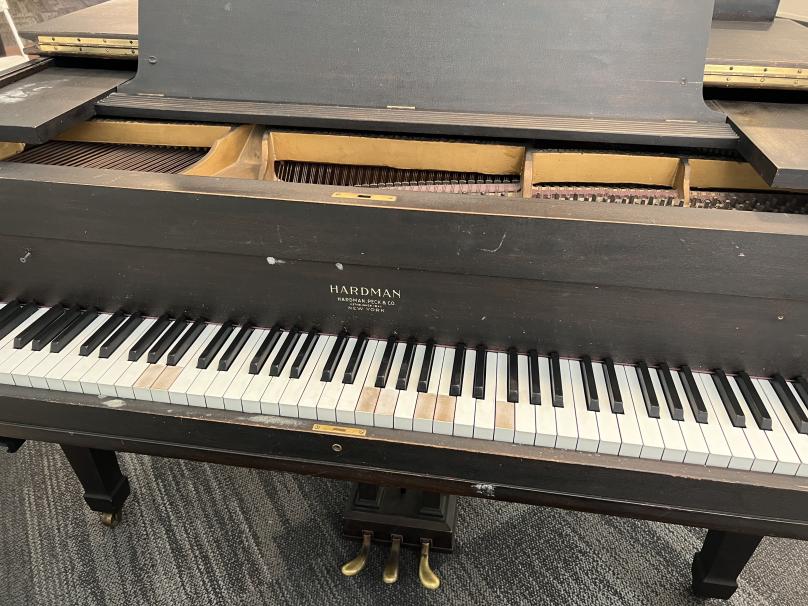 California-Founders Piano
The California-Founders piano has some interesting quirks about it. The piano itself is in tune, though the touch needed to play the keys is surprisingly more than I initially thought.
When pressed, the pedals themselves also exhibit varying oddities. The rightmost pedal, known as the "damper" pedal, took great effort from my entire leg to use and created a rather muddled tone until I eased up on it. To my surprise, the leftmost pedal, known as the "una corda," which softens the sound of the piano, was extremely effective.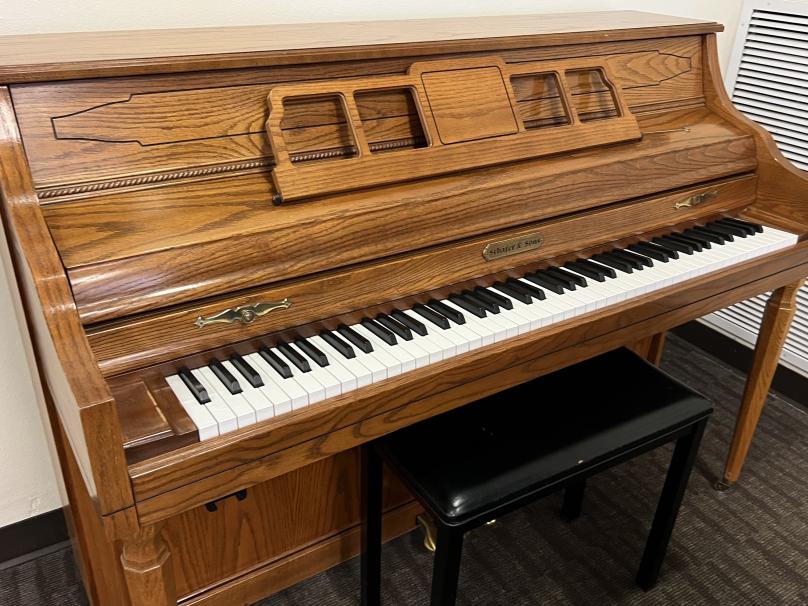 Merriam Piano
Merriam's piano is an upright Hamilton in the corner of the lounge, with slightly dusty keys that are in less-than-desirable conditions. However, all 88 keys are intact and its range of volume was actually quite good. The tone was a bit harsher for my tastes which made getting a softer and gentler sound more difficult, but overall, not the worst on this list! It was also interesting to see a Hamilton piano, as similarly to the Hardman-Peck piano it's not a brand I've seen very many of.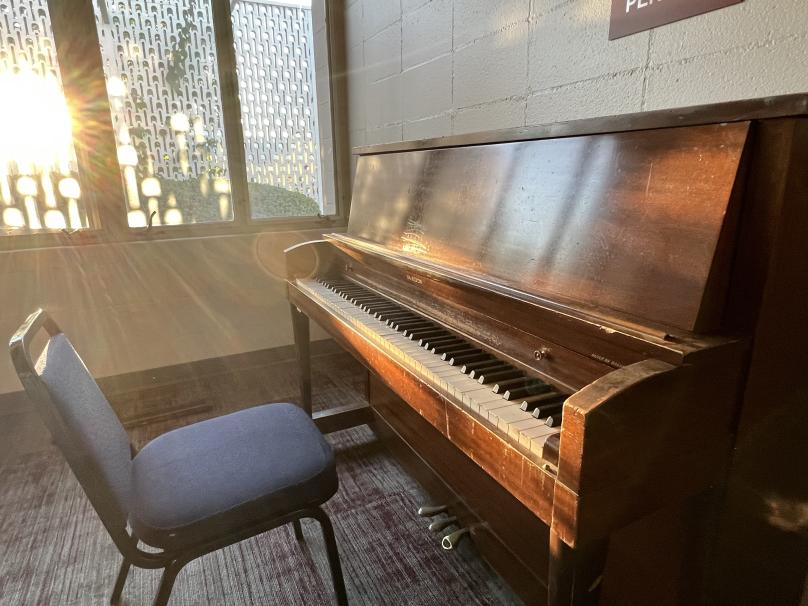 The verdict
In conclusion, it was a little hard to choose a real winner in terms of which dorm has the best piano, due to the many factors such as ambience, condition, and the piano's overall sound. Personally, I thought that Anderson Hall's piano was the best, with both a great setup should one wish to play with a few friends and the piano itself being in good condition. Nonetheless, I had fun getting to check out all of the different dorms on campus, say hi to a few friends, and had a good time.
Special thanks to Mena Williams '25, who graciously accompanied me through a good portion of this adventure. And thanks to the many friends who made this experience feel very much like a side quest of sorts as they joined us in their respective dorms.
Photos by Hayleigh Yeoh.
Kae Yeoh is a sophomore majoring in music performance. Besides music, Kae enjoys reading, videography, and the occasional game.